[edit]
Sami met us out of the airport and drove us from Nairobi to Nyeri. The roads here are better than Uganda's at first looks, good road (not painted) for most of the way. The van was limited to 80 km/h, but Sami kept pushing at the limit which caused the van to beep and surge.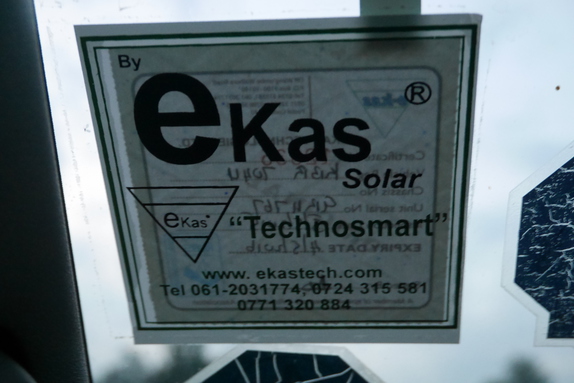 The company that provides the electronic speed limiter, data can be downloaded via USB
The police will fine up to 10,000 shilling (about $100) for overriding the governor, but Sami said that some still do it, with a switch in a hidden place. But there's even an electronic logger inside the van, and if the police have the right USB device they can download your history and see where you've transgressed. An updated version of the tachograph. Another example of being able to skip a generation of technology and deploy something more advanced.
We stopped for a 'biological standing', Sami's euphemism for urination, at a Total garage about 2/3 of the way through. We'd picked up John about 30 minutes from the airport from a swanky hotel with a welcoming guard.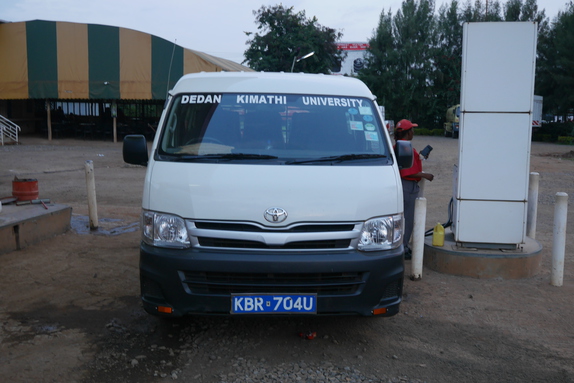 The University's Matatu waiting at the Biological Standing
I slept in fits, but awoke as we crossed a river piercing the sparse jungle around us, with the air filled with swifts. They aren't quite the same as we have in the UK, Mike remarked that their shrieks were slightly different, and that our swifts fly to West Africa.
The other favourite view I had was a small boy, probably about 6 or 7, riding a full size Raleigh Roadster-style bicycle. With two cross bars. He couldn't get over the cross bars, so he rode it at an angle with one foot threaded through under the lower cross bar to access the pedal on the other side. As we passed his sandal fell off and I suppose he had to stop, but he'd been heading up a gradual bank at quite a pace.
The other thing that struck me was the amount of cow herding in comparison to Uganda. If felt like there was more. Each group of cows guided by a thin stick. Many other boys and young men were also carrying sticks in the manner of a cowherd. It looks like a proud local vocation.
We are staying in the guest house, which is the old colonial farm house that managed the land where the DeKUT campus is. It was sold in the 1970s, and the decor is reminiscient of those years, it reminds me of staying with my gran a little.
We were welcomed by Purity with beef samosas and corn bread, a glass of Mango juice to wash it down. After dropping luggage in rooms Ciira arrived, and we dined together. Rice, cabbage, lentils and a cup of tea. It was great catching up with Ciira, he's been here two years now and is head of a department with 500 students and 7 faculty. It is sobering to realise how much work this involves. He's just had a baby girl as well. She's four months old now, and named after Ciira's mother, although I won't attempt the spelling just now.
Trying to sleep early, can hear the thunder of the rains and the calls of the birds. My room has a balcony, but it seems locked unfortunatley. I would have enjoyed seeing in the sun tomorrow while preparing slides.